Take-Two disappointed me big time!
The financial results of previous quarter (the 3rd of their fiscal year) are available on their website:
http://ir.take2games.com/phoenix.zhtml?c=86428&p=irol-newsArticle&ID=2386288
Strangly enough I am not abe to download PDF version because after I click on the "Download PDF" such error occurs:
Error on Page
Invalid File request. Invalid security token
It is kind of strange that such a fameous IT company, producer of such complex games, has a simple error like this on its IR page, but nevertheless let me explain my remarks to the financial statement. As you can read there, all they do is praising themselves:
"Net revenue grew to $1.249 billion, as compared to $480.8 million in last year's fiscal third quarter. Recurrent consumer spending (virtual currency, add-on content and in-game purchases, including the allocated value of virtual currency and add-on content included in special editions of certain games) increased and accounted for 24% of total net revenue. The largest contributors to net revenue in fiscal third quarter 2019 were Red Dead Redemption 2, NBA® 2K19 and NBA 2K18, Grand Theft Auto® Online and Grand Theft Auto V, WWE® 2K19 and WWE® SuperCard, Dragon City and Monster Legends, and Sid Meier's Civilization® VI."
Sure, the revenue jumped to nearly $1,25 bln from $480 mln last year, but it was not a surprise at all, taking into account that Red Dead Redemtion was the best opening weekend blockbuster hit in the enetartaining industry ever!
Just look at this estimates of as many as 21 analysts according to Yahoo Finance: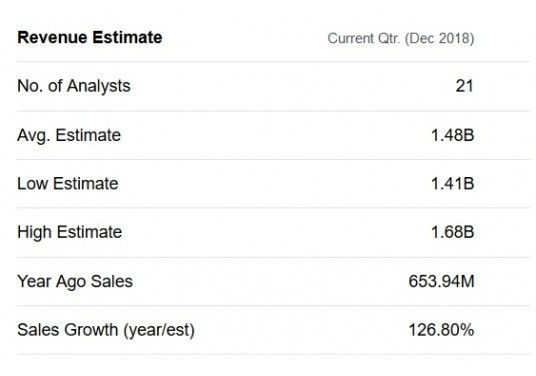 source: Yahoo Finance
It apears that $1,25 bln was 15,5% shy of the average estimate made by 21 analysts.
And then we go to down to the real money and find that the company made just...a little short of $ 180 mln! Oh man! Is this a joke?
"Net income increased to $179.9 million, or $1.57 per diluted share, as compared to $25.1 million, or $0.21 per diluted share, for the comparable period last year. Net income included a favorable impact from the release of certain valuation allowances on the Company's deferred tax assets resulting in the recognition of a $108.7 million tax benefit in the quarter. Without the release of the valuation allowances, the third quarter tax benefit would have been $11.3 million."
If it wasn't enough they owed majority of that net profit to tax benefit of as much as $108,7 mln! If it wasn't by this the net profit would be close to just $ 100 mln...
Net profit of $179,9 mln equals to just $1,57 per share.  What analysts expected before the realese of data - just watch below: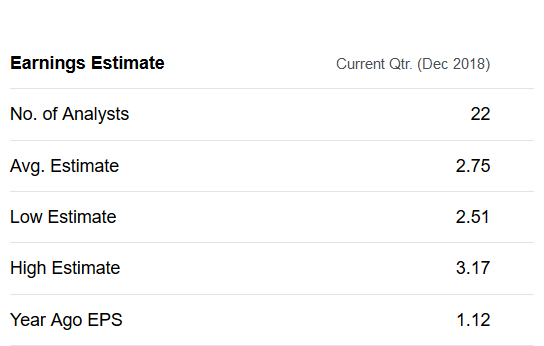 source: Yahoo Finance
It seems like $1,57 per share was stunning 42% below expectations or it would have to be 72% higer to meet them.
Based of 21 analysts consensus stated that $313 mln of net income was expected. The company result of just shy of 180 mln was more than disappointment - it was a disaster!
So were the expectations overshot too much?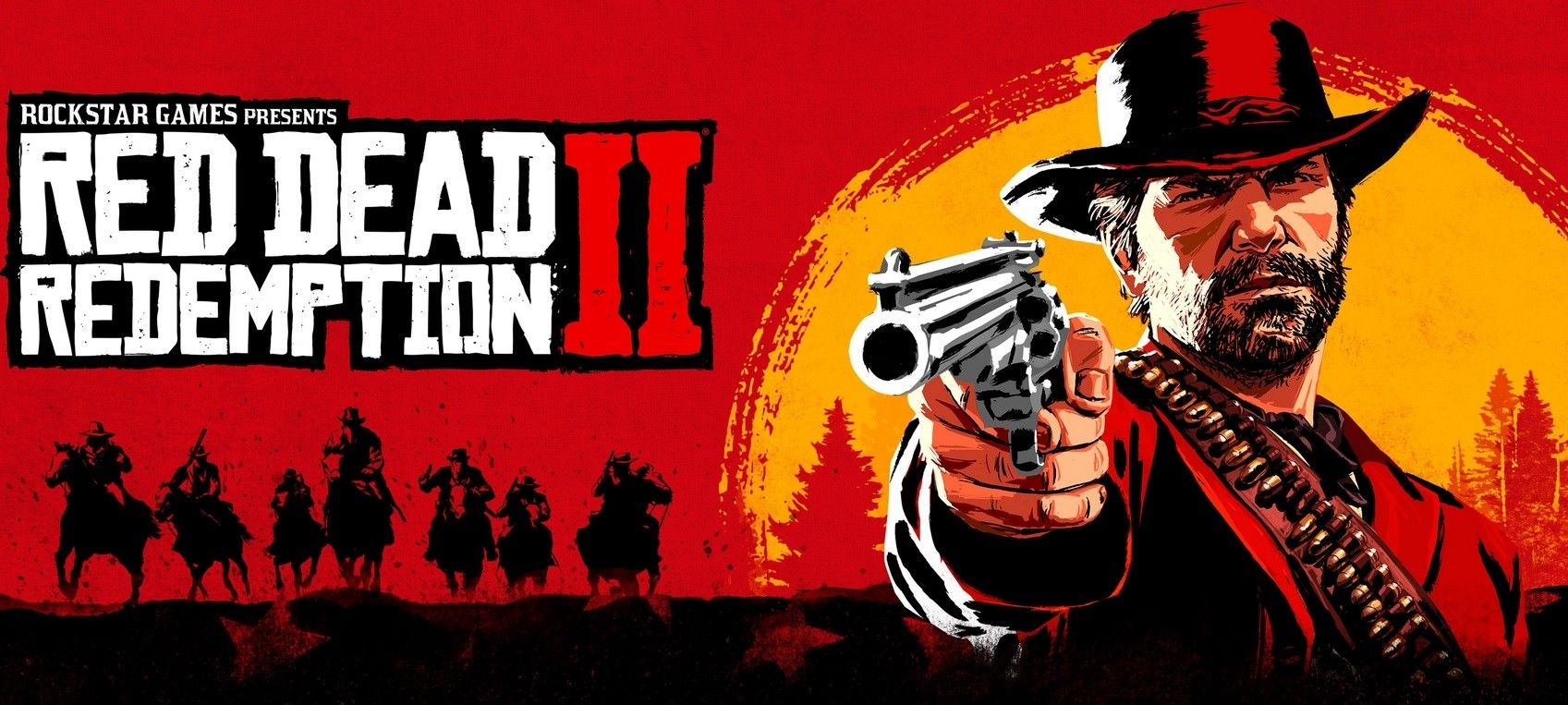 source: http://www.rockstargames.com/reddeadredemption2
Honestly, my expectations was overshot big time, and I blame nobody to myself. Don't get me wrong, I am in this business over 18 years now and I'm not going to find any excuses. All I want to express to you is my great astonishment.
They boast that as many as 23 mln copies of RDR2 was sold ever since the realease on October 26th, so no wonder that my expectations as well as anybody else, was far greater that 180 mln bucks.
And what did CEO - Strauss Zelnick have to say about that?
Take-Two delivered better-than-expected results in the fiscal third quarter," said Strauss Zelnick, Chairman and CEO of Take-Two. "Our outperformance was driven primarily by the record-breaking launch of Red Dead Redemption 2 along with strong results from NBA 2K19. In addition, consumers engaged significantly with our offerings, and recurrent consumer spending grew 31% to a new record. We generated strong cash flow and ended the period with $1.6 billion in cash and short-term investments, after deploying $109 million to repurchase 1 million shares of our stock.
"As a result of our outstanding third quarter performance, we are raising our outlook for fiscal 2019, which is poised to be a record year for Net Bookings and Adjusted Operating Cash Flow. Looking ahead, as our industry continues to embrace new technologies that enhance consumers' experience with, and access to interactive entertainment, we remain focused on broadening the reach of our content and expanding further globally. Take-Two is exceedingly well-positioned - creatively, strategically and financially - to capitalize on the vast opportunities that will shape the future of our business, and to deliver long-term growth and margin expansion."
Wow - he is really, really proud of himself and think it was quote: " better-than-expected results in the fiscal third quarter" (sic!). In my opinion, such a statement disqualify any CEO as a reliable source of information for investors.
And at the end, the company made things even worse providing worse than expected outlook for current quarter (4th quarter of their fiscal year):
Fourth Quarter Ending March 31, 2019
GAAP net revenue is expected to range from $530 to $580 million
GAAP net income is expected to range from $76 to $89 million
GAAP diluted net income per share is expected to range from $0.67 to $0.77
Share count used to calculate both GAAP and management reporting diluted net income per share is expected to be 114.6 million (1)
Net Bookings (operational metric) are expected to range from $450 to $500 million
source: Take-Two Interactive
EPS in the range between $0,67 and $0,77 per share is far below analysts expectations of $0,84 per share.
This give me a idea how huge costs they have operating in US. The net income of $89 mln out of $580 revenue is just 15,3% net margin, compared to up to even 50% of Polish developers like CD Projekt (producer of "The Witcher 3").
Price of Take-Two tumbled 13,7% yeasterday - click to enlarge:

source: xStation
You can see that price is now very far from its 200-day moving average (navy blue line).
Am I selling the stocks?
I still have the stocks of Take-Two and decided to give it opportunity to redeem itself. At least they shoul close this enormous gap and climb at $107 level.
If you have any question please contact me at albert@longtermpl or fb me at https://business.facebook.com/longtermblog or tweet at https://twitter.com/Longterm44
Best investing regards!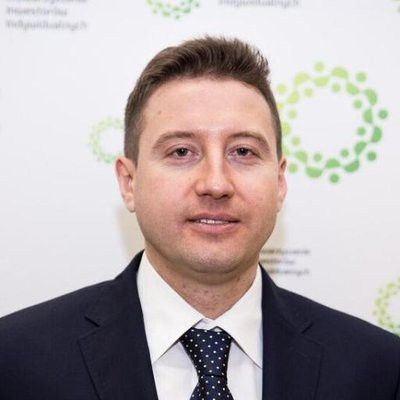 Albert "Longterm" Rokicki
Email: kontakt@longterm.pl
Kanał Youtube: www.youtube.com/user/alrokas
Fanpage na Facebooku: www.facebook.com/longtermblog
Twitter: https://twitter.com/Longterm44